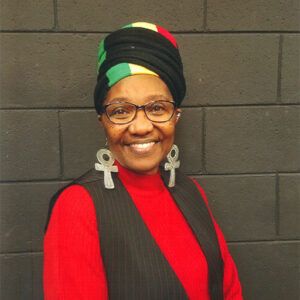 Judith Simon-Butler joined the Augusta Mini Theatre Arts and Life Skills School in its infancy in 1975 and has since received statewide recognition as a director, poet, actress, and drama coach. Known for her devotion to blurring lines between the theater and the streets, Mrs. Butler has shared her artistry at
inner-city summer camp programs, churches, community centers, behind prison walls, and on the traditional stage.
Simon-Butler shines not only as a performing artist and poet but also as a local dream maker. During her forty-six years with the Augusta Mini Theatre, this performing powerhouse has guided five young people toward national television and film careers and has inspired hundreds more to improve their lives through creative expression.
She demonstrates her commitment to lifelong learning by participating in workshops to hone her craft and by teaching students at every stage of life, from childhood through retirement.
Ms. Butler, who holds a B.A. in Drama and Speech from Augusta College (now Augusta University), has received The Terri in the category of Best Actress, a Women of Excellence in the Arts award, Greater Augusta Arts Council's award for Artist of the Year 2000, Sister's Only Club Shero Award "The Arts", The Y and Kiss Family Reunion Arts and Entertainment Advocate Award to name a few.
As a leading actress with a deep commitment to reaching young people, Ms. Butler performed "The Johnny Williams Story" a one-woman show, on an extensive tour of Georgia's youth prisons (YDC).
Judith Simon Butler is the Artistic Director and Drama Instructor at the Theatre.
Mrs. Butler is ever committed to bridging the gap between the real and the imagined.